Feature:
Critical Cleaning / Residue Free, Rust / Corrosion
Shot Blasting Machine Warranty:
One Year
Industrial Experience:
Over 20 Years Professional Design Experience
Cleaning Process:
Steel Shot ,Sand Grit and Other Abrasive
Shot Blasting Machine Material:
High Chrome Castings, Zgmn13, Mn65, Q235A, etc
After-Sales Service Provided:
Available to Service Machinery Overseas
Exported Countries:
USA, UK, Russia, Australia, Mexico, Brasil, etc
Blast Wheel:
High Chromium Wear Resistant
Dust Collector:
Cartridge Filters, Fireproof and Antistatic
Machine Type:
Roller Conveyor Shot Blasting Machine
Packaging Detail:
Pallet, Foam and Plastic Film/Customized
Transport Package:
Pallet, Foam and Plastic Film/Customized
Specification:
CE, Sa 2.5
Origin:
Shandong China(Mainland)
Roller conveyor steel shot blasting machine with high hardness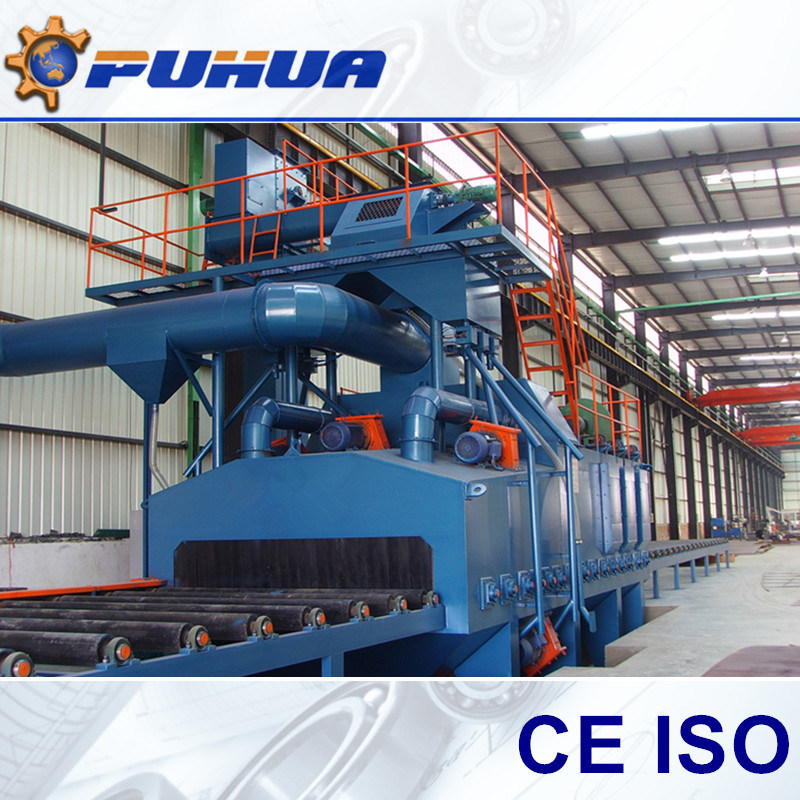 The technological strength:
1.The first dedicated shot blasting machine for office building outside wall decoration marble in China;
2.The first dedicated shot blasting machine for aggrandizement floor grinding tool in China;
3.The first dedicated shot blasting machine for high-speed rail, filled the domestic blank in China;
4.The first dedicated shot blasting machine for crystalline silicon;
5.The first dedicated shot blasting machine for oil field special-purpose cable tray;
Shot blasting machine Introduction:
Steel plate, profile, section, beam shot blasting machine belong to the roller pass through type shot blasting machine, and mainly used to de-stress and surface de-rust the steel structures, clean steel structures surface to achieve the removal of sticky sand, rust, welding slag, scale and other debris, make steel structures surface with certain surface rough degree, which could improve workpiece film adhesion, improve fatigue resistance and corrosion resistance capacity, extending its life. Mainly used in the the bridge, chemical equipment, pressure vessel, construction industries, marine, off-shore oil & gas industries, etc.
H Beam Shot Blasting Machine Technical Features:
Parameter
Q698
Q6812
Q6915
Q6920
Q6925
 Q6930
Q6940
The effective cleaning width (mm)
800
1200
1500
2000
2500
3000
4000
Dimension of inlet opening (mm)
1600*800
1200*400
1700*400
2200*400
2700*800
3200*800
4200*400
The length of cleaning workpiece (mm)
1200-12000
1200
-1600
1200
-12000
1200-12000
3000
-12000
2400
-12000
4500
-18000
The speed of conveyor (m/min)
0.5-4
0.5-4
0.5-4
0.5-4
0.5-4
0.5-4
0.5-4
The workpiece thickness(mm)
3-60
3-60
1.5-60
3-60
3-60
3-110
4.5-100
Shot ball flow rate (kg/min)
4*120
4*250
4*250
6*250
6*250
6*360
8*360
The shot ball first loading (kg)
4000
4000
4000
4500
4500
8000
11000
Roll brush adjusting height (mm)
200
200
350
450
600
850
900
Air capacity (m3/h)
22000
17560
19000
19550
27758
28050
38000
Total power (kw)
90
78.3
113.5
156.6
204.8
224.55
293.6
Product Description:

Feature
1. This Type Shot Blasting Machine is a kind of high efficiency shot blasting
machine.
2. Large inner available cleaning space, compacted structure and scientific design.
Can be designed and manufactured according to the order.
3. No special request for the workpiece structure. Can be used for different kinds of
workpieces.
4. Widely used in cleaning and strengthening for Fragile or Irregularly Shaped Parts,
Medium-sized or Large Parts, Die Cast Parts, Sand Removal and External Finishing.
5. The pre-heating and drying part adopted various heating modes,
such as electricity, fuel gas, fuel oil and so on.
6. Can be equipped as a part of a processing line.
7. Complete set of equipment is controlled by PLC, and is the large-size complete
equipment of international advanced level.
Package
Standard Container
Payment
T/T; L/C
Delivery Time
15-35 workdays
Shipping Port
Qingdao Port
Why Choose us
1. We are professional manufacturer of shot blasting Machine.
2. We can assist client to offer integrated product sourcing & production management
services if product out of our shot blasting machine business line.
3. As a result, our clients can grow their business by focusing on their sales,
ware-housing and distribution while we take care of their China buying
4. Client relationship and production management are the key factors that ensure
successful China buying.
Your account will be managed by our professional project managers.
5. Prompt delivery.
6. Reasonable price.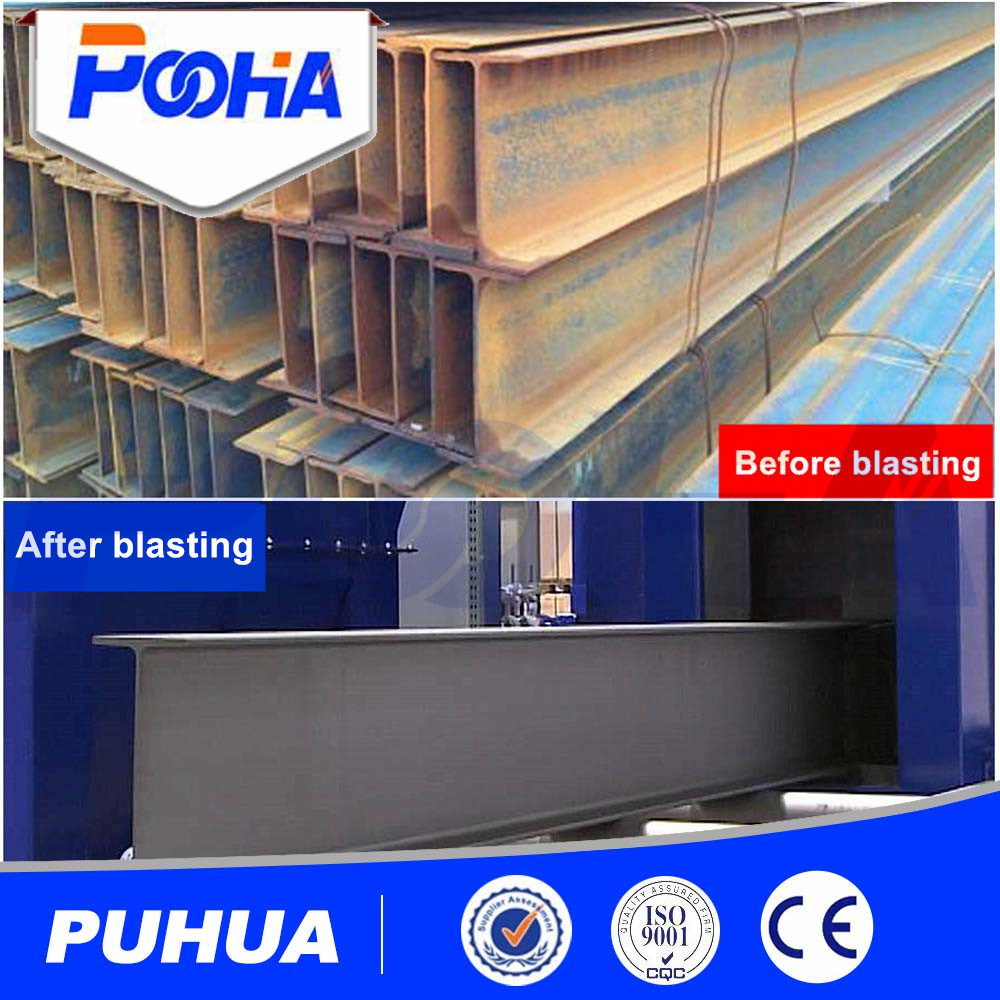 There are many kinds of shot blasting machines as follows:Â 
1. Steel pretreatment line
2. H-beam shot blast machine
3. Steel plate shot blasting machine
4. Bar/wire/rod descaling machine
5. Apron type shot blasting machine
6. Barrel type shot blasting machine 
7. Hanger type shot blasting machine 
8. Tumblast shot blasting machine
9. Trolley type shot blasting machine
10. Steel Pipe Shot Blasting Machine 
11. Steel structure shot blasting machine
12. Horizontal Movable Shot Blast Machine
13. Ground portable sand blasting machine
14. Locomotive Shot blast cleaning machine
15. Roller Conveyor Type Shot-Blasting Machine
16. Spring, connecting rod shot blasting machine 
17. Table blast (rotary table) shot blasting machine
18. Metal mesh belt / rubber belt pass through shot blasting machine
We offer designed shot blasting machines to casting, forging and heat treatment, steel structure, container, machinery, shipbuilding, aircraft, locomotive, and machine tool industries.
Our products are widely used in metal processing industry, automobile, shipbuilding, bridge, automobile, machinery industries, real estate, manufacturing and other fields. 
If any request, please contact us any time, we will give you the best service!
This machine is not a standard machine, any parameters can be customized according clients' requirements, so any further informations please contact with us, our skilled engineer team will give you the most professional and cost-effective solutions.
Trade Information:
MOQ: 1set.
Settlement Currency: USD, RMB, EUR.
Trade mode: FOB, CIP, CFR, CIF, DDU, DDP.
Payment term: 30% deposit by T/T, the balance paid before delivery by T/T, or L/C at sight.
Delivery time: Within 5-15 days according to different type machine.
FAQ
1. How to confirm the machine type we need?
Let us know the workpiece type, then we can select the suitable machine for you. Better send some photos to us.
2. How to confirm the machine size?
Let us know the max. & min. dimension of your workpiece, we can design best machine for you to complete your work and reduce the investment money.
3. How many processing parts per 8 hours?
According to your productivity requirement, we adjust and design suitable capacity machine for you.
4. What is the lead time of shot blasting machine?
For standard machine, usually we have stock in factory.
Big machine, the lead time is usually 25 to 40 days.
5. The machine will be tested before shipping?
Yes, all of our machines are tested before shipment.
6. What's your quality guarantee?
Quality guarantee time is one year after installation.
7. Are you able to give Installation and commissioning overseas? How long will it take?
Yes, we supply overseas service, but customer need to pay for the engineers flight tickets, hotel, food, etc.
Small machine usually takes 5 to 7 days.
Big machine usually takes 20-60 days.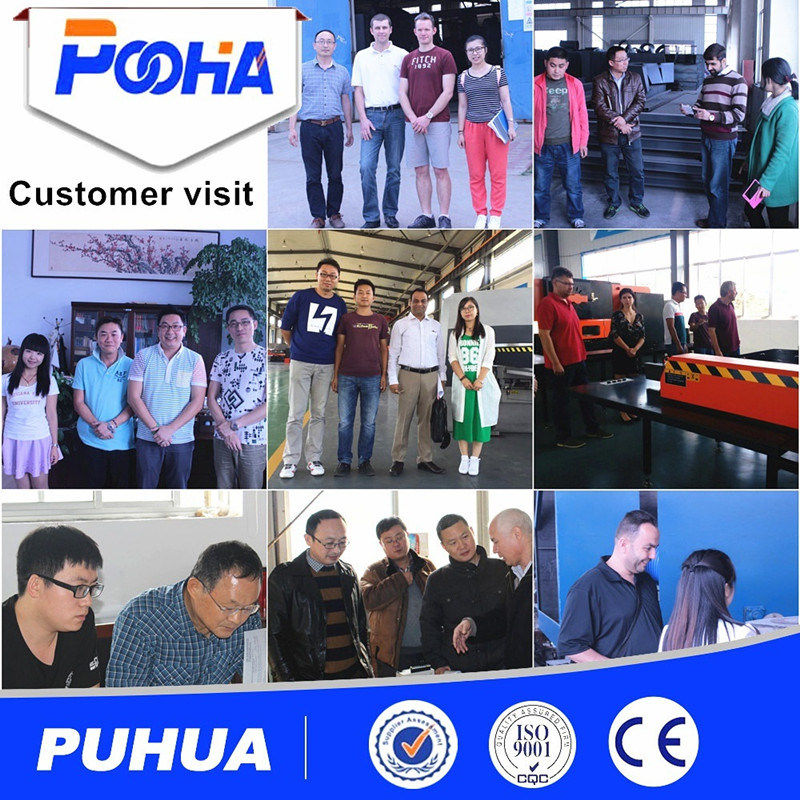 Warmly welcome you to visit our factory in Qingdao.
Steel Fabrication Equipment mainly included:
...
Those machines are used for cutting, sawing, drilling holes, punching holes shaped profile, like C Channel, H beam, I beam,
CNC Beam Line
Steel fabrication machinery,Steel Fabrication Equipment, cnc beam drilling machine,beam drill line
Shandong ShuoFang Environmental Technology Co., Ltd. , https://www.chinafincnc.com