- Sidelights of the 13th China International Chemical Exhibition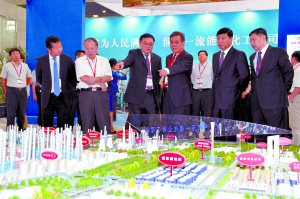 The picture shows Li Yongwu and others visiting the exhibition. (Reporter Zhang Yushe)
On September 11, the 13th China International Chemical Industry Exhibition opened at Tianjin Binhai International Convention and Exhibition Center.
There was no opening ceremony for the big scenes in the past, but the visitors were woven. Into the center of the exhibition center, looking ahead, the theme of the exhibition "green chemicals" are reflected in the prominent position of the exhibitors booth.
Sinopec: Fuel for a better life;
PetroChina: Resource replacement success cycle;
Shanghai Huayi Group: green chemistry, a better life;
Luxi Group: Leading brand of green industry;
Juhua Group Company: National Circular Economy Education Demonstration Base;
China National Chemical Corporation: Chemicals make life more exciting;
Shenhua Group: Shenhua mission to provide green energy for social development;
Extending Petroleum: A corporate vision to become a respectable and innovative international energy and chemical company...
A visiting representative seriously looked at the introduction of the Tianjin Nangang Industrial Zone and praised noddingly: "The Nangang Industrial Zone is indeed quite distinctive and has been very comprehensive in terms of green development." The public engineering system in Tianjin Nangang Industrial Zone has adopted International advanced high-efficiency clean power generation technology, unit coal consumption savings of 20%, unit water consumption savings of 50%, sulfur dioxide to achieve 99.99% recycling, CO2 emissions reduction of 50%, and to achieve comprehensive utilization of capture and purification; Nankang industrial zone also uses thermoelectric heating seawater Seawater desalination, seawater purification, seawater sub-seawater, boiler make-up water, high-purity water, chemical water, and other varieties of water gradient grade water supply, park enterprises do not use surface water. The concentrated seawater undergoes industrialized salt production and extraction of potassium, magnesium, bromide and magnesium, and is used for the production of high value-added chemicals. The concentrated seawater in the entire Nangang Industrial Zone has achieved comprehensive utilization and zero emissions.
China National Chemical Industry Group has combined the development and production of various technical products with clothing, food, housing and transportation of ordinary people's daily lives. Many innovative ideas have attracted many viewers to stop. Among them, the company's environment and service section exhibited its liquid separation membrane and water treatment technology. This technology has gained a reputation in the industry for its successful application to the "Bird's Nest" stormwater project of the main building of the Beijing Olympic Games. China Chemical also used its self-developed reverse osmosis seawater desalination technology to build China's first 100-ton reverse osmosis desalination project. At present, more than 70% of domestic desalination plants use this technology, including China's largest membrane desalination project - Caofeidian 50,000 tons / day desalination project.
At around 9:30, some companies' booths suddenly became bustling. Originally Li Yongwu, president of the China Petroleum and Chemical Industry Federation, and He Shushan, deputy mayor of Tianjin visited the exhibition hall.
On the display panel of Shanghai Huayi Group, many famous paint brands such as "Flying Tiger" and "Yi Pin" show people their wide application in people's lives. From anti-corrosion coatings used in iconic buildings such as the Shanghai Pudong Airport to disposable diapers for infants, Huayi uses its own products to interpret the concept of "make life more exciting and make the city better". Seeing that Huayi's back-to-brand sports shoes are novel in style and rich in color, Li Yongwu and others are very interested in it. They look closely and ask the staff about the product's creativity and material characteristics, as well as the product's marketing strategies and sales. Huayi Group, as a typical representative of traditional chemical companies, has been producing more high-quality products that directly serve the public through continuous efforts, bold exploration and technological innovation in recent years. Li Yongwu has praised this: "The chemical companies can only take the green chemical path and serve the lives of ordinary people. They can make more contributions to the creation of a better life and can have a strong vitality."
In the exhibition area setting, this China International Chemicals Exhibition has made meticulous arrangements to set up petroleum and chemical industry, basic organic and inorganic chemical raw materials, dyes and pigments, agrochemicals, fine and special chemicals, chemical synthetic materials and Raw materials, chemical equipment and automation, chemical technology achievements, information and services, green chemicals and other exhibition areas. The entire pavilion is dominated by blue-green tones and it feels fresh and pleasant.
It is understood that this exhibition has attracted more than 400 excellent Chinese and foreign petrochemical enterprises to participate in the exhibition, and more than 15,000 professional visitors from home and abroad will participate in this annual event.
The excavator widely apply to vegetable greenhouse, fruitland nurseries, farmland leveling land, digging ditch etc. Construction in narrow space. It`s preferred tool replace the labor force.
Our factory produce the wheel excavator and crawler excavator. The wheel excavator have 5.5ton, 7 ton, 9 ton. The crawler excavator have 1ton, 1.5ton, 2ton.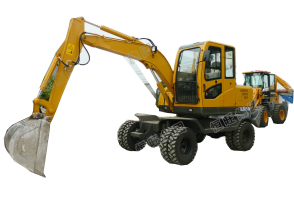 FAQ
What is the machine advantage? Why I choose from you ?
A: Adopting world famous brand engine and parts, ensure long life service, all the structure parts are produced and checked by our engineers,
Each machine is carefully tested before send to customer.
Warranty time for 1 year or 1200 working hours.
The warranty of the machine and how will you carry out the service?
A: Warranty period: 1 years or1200 working hours manufacturers warranty whichever comes first. One line service is provided 24 hours every day, there are technicians ready to serve for you, they are well trained, they can be assigned to your site and serve for you.
Spare parts supply:
A: Spare parts is available all the time.
Excavator
Mini Excavator,Small Excavator,Excavator Machine,Hydraulic Excavator
SHANDONG HENGWANG GROUP , http://www.hwmac.com